IDX Broker Developer Partner Program
The IDX Broker Developer Partner Program provides incentives for designers and developers that integrate IDX Broker Lite or IDX Broker Platinum into real estate websites. Monthly commission payouts start with 5 accounts, and max out at 45% payback for real estate designers that refer 51 or more accounts. Your clients will never pay a setup fee - beginning with your 1st referral!
Over $5.4 Million Paid to IDX Developers Since 2009
Requirements:
You must be able to provide a completed W-9 upon sign up. We will not process your application until we receive a valid W-9.
You must bundle services with IDX. You cannot sell IDX as a stand-alone product. If you are a WordPress Theme Developer, you may have the option to give your clients a waived setup, however, you will not earn a recurring payback unless you fully support the installed website each month.
You should not use iFrame tags to integrate IDX and must maintain minimum HTML/CSS competency.
You must have a minimum of 5 accounts active for one billing cycle in order to receive a commission in the form of a check.
You must take full responsibility for supporting your referrals. As an IDX Developer Partner you may contact our support team but your clients should not contact our Support team directly.
Program Details:
After signing up for the program and submitting your one-time $99.99 setup fee, you will gain access to the following IDX Broker resources:
A Custom Sign Up Form. Add your logo to a sign up form that includes no setup fee. Note that IDX Broker Terms and Conditions prohibit advertising free or reduced-priced IDX setup through any marketing materials.
Custom Sign Up Email. You will receive an alert when your client fills out your custom sign up form.
Save $100 on the purchase of Agent Evolution's Equity WordPress Framework to build Equity Child Themes for your clients. Contact developers@idxbroker.com for coupon code. Partner status must be verifiable, W-9 required.
Co-Branded Client Control Panel: Add your logo to your client's IDX Broker admin header.
Rapid Payment: 30 day payables. Checks are sent out within 30 days of the close of the previous month.
Billing Reports: All billing reports can be found on IDX Broker's Developer Partner middleware dashboard.
Ready to Get Started?
There is a $99.99 entry fee to join the program, but once you become a Developer Partner, your clients will never pay a $99.99 setup fee to IDX Broker.
Potential Monthly Commisson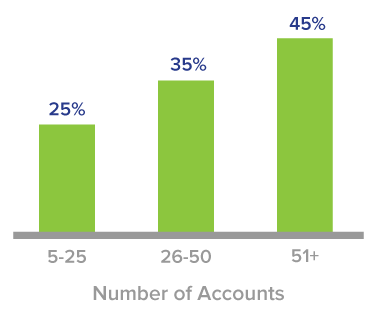 Have a question? Get in touch with us!